Compact multifunctional pocket-sized LED color effect light. Provides white light and colored light as well as 17 special lighting effects that can be customized individually. Direct control or remote control via Bluetooth. With integrated Lithium-ion battery for mobile, mains-independent use and with built-in magnets for attaching the light to magnetic surfaces. Comes with removable diffuser, USB cable and padded belt pouch with snap hook.


For the creative arrangement of photo and video shots in the studio, home office or on location. Particularly suitable for portrait, interview, social media, vlogging, video conference, webinars, table top and macro shots.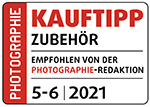 In the white light mode, the color temperature can be adjusted from 2700 to 7500 Kelvin. In addition green and magenta can each be adjusted in 100 increments. The light is flicker-free and without infrared and UV parts. High color rendering index of CRI: 95, TLCI: 97. 
In color mode it is possible to add color effects to portraits, product shots and scenes or to create a particular lighting atmosphere, for example by a background illuminated with colored light. You can generate 360 different colors of the visible spectrum by mixing the light from LEDs with the primary colors red, green and blue (RGB). In addition color saturation can be adjusted between 0 % and 100 %, thus 36.000 shades of color can be represented.  
Both in white light mode as well as with colored light and special effects hereinafter, the brightness can be adjusted in 1 % increments from 0 % to 100 %. By pushing a button you can also switch between the set brightness and light switched off.
 
The light offers 17 special effects that can all be varied individually:
Thunderstorm simulation, police car, TV simulation created by sudden random brightness changes, popping of flashbulbs ("Paparazzi"), candlelight/fire, lightshow simulation ("Disco"), simulation of bad bulbs created by flickering in irregular intervals, fireworks, explosions and the simulation of welding. There are always multiple different setting possibilities. Besides adjusting the brightness, there are for example these settings when using the police car effect: blue, color change red/blue, color change blue/white and color change red/blue/white plus setting the flashing speed. The lightshow simulation offers the choice between 3, 6, 9, 15, 18, 21 or 24 colors and the required speed of the color change. And the fireworks effect features besides other setting the possibility for adjusting the duration of the "die-down".
Movie makers and photographers will furthermore enjoy effects like changing color, color temperature and brightness in infinite loop as well as flashing or pulsing with white light or hue. These effects also allow a brightness change and – in addition – selecting initial and terminal value of the desired color spectrum of the color change in infinite loops plus the duration of the loop.
Control of all functions is done by only five keys. All relevant data are displayed on the info screen.
Control with the free NANLINK APP via Bluetooth.
Note: The NANLINK APP for iOS can be found in the APP Store, for Android at Google Play. When controlled via the NANLINK APP, additional setting options are available. 
In order to achieve particular soft and glare-free light and a larger angle of radiation (approx. 250°), a diffuser included in the scope of supply can be attached to the light.
The light has a 1/4" tripod thread for mounting on stands or fixtures with a suitable connection thread. Using the 1/4" accessory shoe adapter (3742) or the HS ball head (6010) (each optional accessory), the light can also be attached to the accessory shoe of a camera.
Due to hidden built-in magnets on the rear side of the light, it adheres to all magnetic surfaces.
A waterproof bag (3741) is available as an accessory to use the light under water or in rain.

Firmware update (current firmware).

Charging and operating the light can be done by connecting the supplied USB cable to a suitable USB charging adapter, a live USB port or a power bank. Charging condition and remaining operating time depending on the selected setting is displayed on the info screen of the light.
Built-in radio receiver for wireless control of brightness and color temperature with white light (remote control is available as an accessory). 512 radio channels can be selected. 
Scope of supply: Light with integrated rechargeable battery, diffuser, USB cable and belt pouch.

Specifications:
Color temperature: 2700 – 7500 Kelvin, green/magenta correction
Color rendering index: CRI: 95, TLCI: 97
Angle of radiation w/o diffuser: 45°, with diffuser: 253°
Max. illuminance (lux) at 5600 Kelvin:
                 w/o             with
                 diffuser        diffuser 
at 0.3 m     6580           945
at 0.5 m     2350           300
at 1 m          580             70
Total number of LEDs: 50
Power of LEDs: 2 x 5 W and 3 x 4 W
Rated power: 7 W 
Input voltage / current: DC 5 V / 2 A
Lithium-ion-battery: 3.7 V / 2400 mAh / 8.88 Wh
Operating time with fully loaded battery: approx. 90 minutes at full power
Charging time: 2 hours 20 minutes
Dimensions: 108 x 60 x 22 mm (4.3 x 2.4 x 0.9 in.)
Weight: 138 g (4.9 oz.)
Accessories
3709 - NANLITE BT-BG-F550 Battery Grip
3632 - KNP-F550 Lithium-Ion Battery
3741 - NANLITE AS-WB-LL5C Waterproof Bag
3742 - NANLITE AS-CSA-1/4 Accessory Shoe Adapter 1/4"
3707 - NANLITE AS-CP-1/4 Threading Adapter, 2 x 1/4"
3890 - NANLITE BT-V-14.8V160 V-Mount Battery
3893 - NANLITE BT-CGV-14.8V-1 Charger
6010 - HS Ball-and-Socket Head