Bi-color ring light for even and soft illumination of photo and video shots. Especially suitable for portrait, interview, YouTube, web seminars, also for beauty, stillife, tabletop and food photography. Facial photography shows "white ring" in the eyes.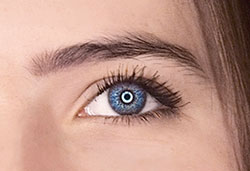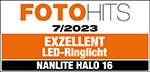 Excellent light quality by use of 288 selected LEDs with high color rendering index (CRI) of 95. Very low heat emission.
Color temperature can be adjusted between 3200 and 5600 Kelvin, brightness is infinitely variable. Maximal illumination at 1 m (3 ft.) is 650 lux.
Comes with flexible smartphone mount with ball joint and stable holding arm, for smartphones up to a width of approx. 9 cm (3.5 in.). Replaceable with an included make-up mirror.
With USB connection for powering a smartphone for example.
A built-in radio receiver allows for a wireless control of brightness and color temperature (remote control 3702 is available as an accessory). Brightness level, color temperature, radio channel und battery charge condition is displayed.
The light is powered via the included mains adapter or by a KNP-F960/F970 lithium ion battery or another Sony type NP-F750/F960/F970 battery (battery not included).
A continuously adjustable swivel joint is included. Mounts on stands/fixtures with 16 mm (5/8") standard spigot.
Carrying case with front pocket for mains adapter and accessories, inner compartment for make-up mirror, retaining straps for a light stand, handle and carrying strap. External dimensions (WxHxD): approx. 49 x 43 x 9.5 cm (19.3 x 16.9 x 3.7 in.).

Scope of supply: ring light, mains adapter, smartphone mount, make-up mirror, carrying case.


Specifications:
Angle of radiation: 120°
Minimum working distance: 20 cm (7.9 in.)
Outside diameter: 40 cm (15.7 in.)
Inside diameter: 30.5 cm (12 in.)
Weight: approx. 950 g (2.1 lbs.)
Accessories
3702 - NANLINK WS-RC-C2 RGB and Bi-Color Radio Remote Control
3634 - KNP-F960/F970 Lithium-Ion Battery
3895 - NANLITE BT-BA-V Battery Holder
3890 - NANLITE BT-V-14.8V160 V-Mount Battery
3893 - NANLITE BT-CGV-14.8V-1 Charger
5857 - Multi-Purpose Stand Base
3194 - "Compact 175" Light Stand
3186 - "AutoFold S" Light Stand
3188 - "AutoFold L" Light Stand